♠ BOOK IT! Travel Book Roundup (Summer & Fall 2017). Hot off the travel presses, we've got a few great new Lonely Planet titles to tell you about. Do you like beer? Getting married one day? Can you drive? If you said yes to any of these, read on!
Lonely Planet's Global Beer Tour
What better than combining the joy of travel and the majestic beverage, culture and artform that is beer? What better way to taste the freshest beer than go straight to the source? Lonely Planet's Global Beer Tour is an ode to the
world's best breweries and those that are willing to go great lengths to enjoy the globe's greatest brews. If you're a beer lover, a Global Beer Tour is as intoxicating as it sounds. The book goes through breweries by country and continent and lists and describes the best breweries you can visit worldwide. I particularly enjoyed reading about places I'd already been and see the authors' take on it, and then looking by country and adding the breweries I haven't visited into any upcoming travel plans. There's some delicious features within, with a short but sweet introductory section introducing beginners beer concepts (like the brewing process in a nutshell). The book documents a smattering of the coolest breweries to visit, what you can expect (food? tour? takeout? family friendly? bar?), things to do nearby in that city (in typical Lonely Planet tourist-friendly fashion), and a rundown on each brewery. Lots of cool photos make the guidebook come alive. The only downside is I wish there were more breweries featured as it only visits a tiny percentage of what's out there, but I suppose selectivity is warranted in this vast brewery world. You may not visit all the breweries in this book but you'll get tipsy trying.
Buy it @ Lonely Planet // Amazon.com // Amazon.ca // Chapters.ca
Epic Drives of the World
Epic Drives is a fascinating tome for any traveler willing to get off the beaten path, rent a car and explore a new place on their own terms. This hefty, beautiful volume showcases the world's most exciting and picturesque drives and will make you want to get out on the open road in whatever country you are exploring. The featured drives come with details, tips, and directions, and sandwiched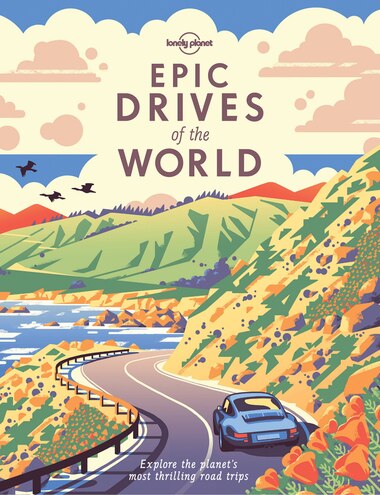 between each is a "more like this" page with other great ideas – great for travel buffs. As for the main drives, look for 6 from Africa & The Middle East (from Cruising the Kalahari in Botswana to the Marrakesh to Taroudannt drive in Morocco), and 17 in the Americas (from the Hana Highway in Hawaii, to Route 66, to Canada's Icefields Parkway, to Cuba's Havana to Vinales). Asia features 5 drives, such as "from Top to Toe" in South Korea to the Ho Chi Minh Trail in Vietnam. Europe has 14 featured drives (such as the Wilds of Abruzzo in Italy to the Magic Circle in Iceland), and Oceania has 8 (The Great Ocean Road in Australia, for example). As we ourselves plan to go to Mallorca, Spain, the "more like this" tidbit on A Circuit of Mallorca gave us some inspiration on how to make the most of our rental car.
A tidbit from the book about the author's drive through Morocco: "….Beyond Asni the scenery becomes increasingly dramatic and the road gets more unnerving, as drivers weave between lanes, happily overtaking in the face of oncoming traffic and honking mercilessly at anyone who gets in their way. We're soon surrounded by spectacular mountains and the most incredible gorges and canyons. … From here-on, the driving gets tougher, the road more tortuous, yet each hairpin bend reveals yet another spectacular mountain view as we make our way to the top of the Tizi n'Test at 2092 metres. … And then there it is. The view. A sweeping, expensive panorama that lays out the whole of the Souss Valley before us. … We wander through the souks and avenues lined with orange trees, hibiscus and bougainvillea, pick up a picnic of olives, oranges, bread and almonds and eat it on the ramparts as the sun sets." Expect lots of fun reads like this.
Pick up the book for more great drives. It's hot off the heels of Lonely Planet's Epic Bike Rides of the World, and possibly even more epic. Take it for a spin.
Buy it @ Lonely Planet // Amazon.com // Amazon.ca // Chapters.ca
The Honeymoon Handbook
This honeymoon planner's paperback is a great guide for those who can't decide: where to go for that special once-in-a-lifetime (well, hopefully just once) trip to somewhere exotic. Can't think of a place to go? Seen it all? Need tips for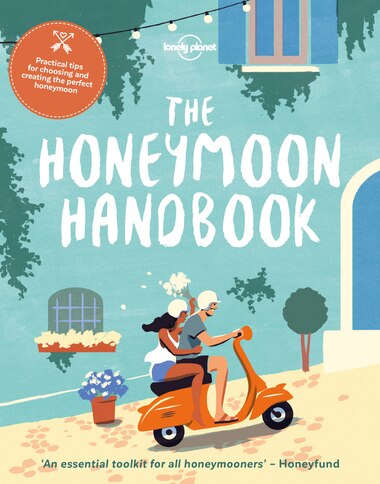 an extra-romantic, ultra-epic trip to remember? The Honeymoon Handbook can offer up some ideas outside of the box. Forget Hawaii or Mexico – make it unique, special, exhilarating. There are a lot of great honeymoon tips, as well, other than just choosing a destination. The book starts off with a planning section, tips on budgeting, and more. There's a section on top 10 budget honeymoons, if that's your thing, and top 5 off-the-beaten-track honeymoons, for those more adventurous couples. And there are sections on several areas, such as Maldives & Sri Lanka, Tokyo & Mount Fuji, the Canadian Rockies, Tobago, Myanmar, Galapagos, Andalucia (Spain), Italy, and Nicaragua. It's got a few obvious picks that'll keep the masses happy (Florida, Cuba, the aforementioned Hawaii and Mexico). I must admit that although we are ourselves planning an actual honeymoon, the book was interesting to look at but had no success in swaying our longstanding (but not yet solidified) choice for honeymoon destination, Greece. Interestingly, this amazing beach & culture destination isn't mentioned in the book. However full of inspiration, the Honeymoon Handbook is merely a supplement to true planning, and of course your own desires and honeymoon dreams will steer you the right way, but it is an interesting glimpse into a world of lovely possibilities.
Buy it @ Lonely Planet // Amazon.com // Amazon.ca // Chapters.ca